PLEASE SEE YOUR LOCAL SWIM SCHOOL
FOR CURRENT LESSON STATUS AND TEMPORARY CLOSURES
Precautions We Are Taking For Coronavirus
Hello Swim Families,
As we head into swim season, our mission is to give the kids of our community the skills they need to be safer around water. As always, the safety of our swimmers, families and team is our highest priority. Our team is aware of the latest reports on the Coronavirus (COVID-19) situation and we are monitoring updates very closely. Fortunately, to date, the CDC has reported limited cases of COVID-19 in children and these limited reports suggest that children have generally presented with mild symptoms. Our schools follow the health protocol of local State Departments of Health and the Center of Disease Control and Prevention (CDC).
The CDC recently updated their website with valuable information regarding pools and hot tubs: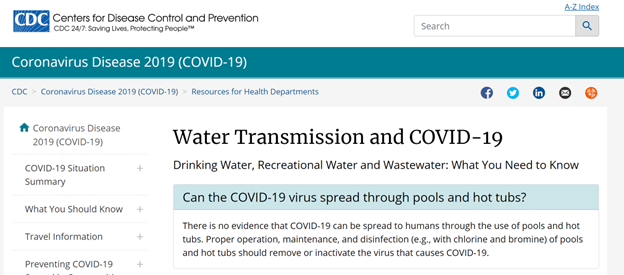 These guidelines and practices are a reminder of what we already have in place, in addition to some new protocol, all designed to keep our swim families and team members safe:
Stay home if you are sick (this applies to students as well as employees!). We have a flexible makeup policy. If you're not well, please stay home to rest and recover!
Our regular cleaning practices are some of the best defenses against the spread of contagious illnesses, including disinfecting all surfaces, viewing areas and changing areas multiple times per day
For the time being, we will be limiting access to any toys
Providing hand sanitizer at various stations
Our pools have well-balanced, chlorinated water to kill bacteria & viruses
The CDC recommends everyday preventive actions to help prevent the spread of respiratory diseases, including:
Avoid close contact with people who are sick
Avoid touching your eyes, nose, and mouth
Cover your cough or sneeze with a tissue, then throw the tissue in the trash
Clean and disinfect frequently touched objects and surfaces using a regular household cleaning spray or wipe
Wash your hands often with soap and water for at least 20 seconds, especially after going to the bathroom; before eating; and after blowing your nose, coughing, or sneezing. (If soap and water are not readily available, use an alcohol-based hand sanitizer with at least 60% alcohol).
We will continue to closely monitor the situation and follow the guidance of the State Department of Health. As Spring is nearly upon us, we are taking precautions in our schools as we continue to teach children the life skill of swimming. We recognize that the families of our community have varying levels of concerns and precautions with which they feel most comfortable. If you would like to pause lessons or schedule a makeup we have flexible options. Please do not hesitate to call us if you would like to understand the precautions we are taking at our school.