Swimtastic Swimming Lessons:
Omaha, Nebraska (Southwest)
At Swimtastic, our goal is to teach swimming in a positive, safe and loving environment. We recognize that each child is an individual with different emotional and developmental abilities and we cater each lesson to those needs.
In addition to teaching the life-skill of swimming, we strive to develop each child's self-esteem, confidence and love for the water- because creating a happy swimmer is a gift that lasts a lifetime.
Learn to swim today!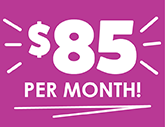 Become a VIP Today!
Choose "Monthly" before checking out!*
Benefits
- Unlimited Family Swim -
- Priority Registration & Class Times -
- Automated Monthly Payments -
*Actual monthly bill is based on lessons provided each month. The average monthly price listed is based on 4 classes per month (or a four week month). The monthly billing amount will vary based on the actual number of classes provided in the calendar month. Toddler Transition and ParentTot classes pricing varies. Call us for more information at (402)493-7946.

January 2 - February 29
Group Lessons:
Semi-Private Lessons:
Private Lessons:
March 2 - May 23
Group Lessons:
Semi-Private Lessons:
Private Lessons:
May 25 - August 8
Group Lessons:
Semi- Private Lessons:
Private Lessons:
August 10 - October 18
Group Lessons:
Semi- Private Lessons:
Private Lessons:
Kids Birthday Party Celebrations!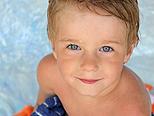 Looking for the perfect place to throw your child's Birthday Party? You've come to the right place. Swimtastic offers a variety of birthday party packages featuring our party room and private swimming pool just for you.
Our indoor pool is heated to a warm 90 degrees and fully equipped with Swimtastic's signature water slide, specifically designed to be the best birthday party of the year!
Hand-select current openings & reserve your birthday party in real-time!
Swimtastic Infant Clinics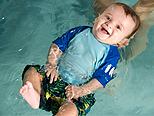 As a sample of our parent-child swim lessons, we offer a FREE Infant Clinic specifically created for for families with infants and toddlers ages 6 months to 2 years old.
If you're interested in our Swim Baby or Swimtastic Swim Baby parent-child learn to swim classes, this is the perfect way to experience our warm 90° water and kid-friendly Nebraska facility.
Google Maps: Swimtastic Swim School of Omaha, NE (Southwest)
Wondering where we are located? Check us out on the map!