Learning to swim is a defining moment in a child's life that should build confidence, independence, and pride. All things that we believe deserve to be recognized. We want every child to feel the accomplishment and recognition for the hard work that goes into achieving new skills and reaching the next swim level. This is why each month we host a Splash-N-Tell for swimmers to show off their latest swim skills to parents and we celebrate each level passed with a commemorative ribbon. In any sport or activity, there is also an opportunity to recognize and help reinforce positive character traits in even our youngest athletes. With that intention, our Missy Medal program is special recognition for students and team members that have demonstrated exception character.
Splash-N-Tell
Curious as to how your child is progressing? We recognize how important it is for you, as a parent to understand exactly what skills your child is working on in their swim lessons. To ensure open communication between instructor, swimmer and parent, we offer Splash-N-Tell every month. This gives parents the opportunity to talk to their child's instructor to understand their child's progress and learn what new skills they will be working on next. It also gives the student the opportunity to show off a little to Mom and Dad! Additionally, our certified instructors keep weekly skill tracking for each student. If you ever have any questions on your kiddos progress, don't hesitate to ask for a progress report! We love to talk swimming.
How Does
Splash-N-Tell

Work?

Each month, our team will invite parents into the pool area for the last 8 minutes of class. This gives parents the opportunity to talk with the instructor, let their child show off a little, and receive feedback on their child's progress. We love Splash-N-Tell week as it is a moment to reflect and recognize all the hard work of your swimmers. Taking a moment to celebrate reinforces the dedication and builds confidence in all swimmers. Additionally, we also keep skill trackers for every swimmer. If you would like a more frequent progress report, just let us know.
The Missy Medal Program is intended to recognize students and team members that demonstrate exceptional character! As a member of our local community, we believe it is important to honor individuals that exhibit qualities that make our world a better place. Whether your swimming goal is to be safe in the water or be the fastest in your league, being a Good Sport, having Passion, Achievement of your goals, Dedication, and Kindness are character attributes worthy of recognition.
KINDNESS
If you can be one thing, be kind. Kindness is free and brightens everyone's day.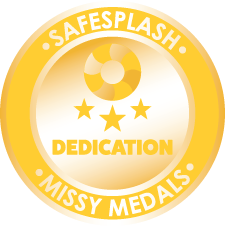 DEDICATION
On the days that your passion might be running a little low, it's the dedication to your goals, your family, and your friends that make a difference!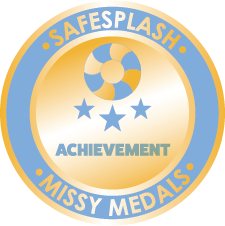 ACHIEVEMENT
Always be proud of your personal best. Celebrate the achievement of your goals!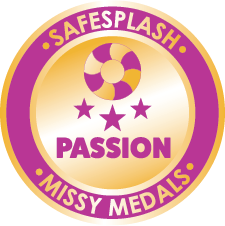 PASSION
Passion is having endless supply of love and excitement, especially on days when things don't go your way.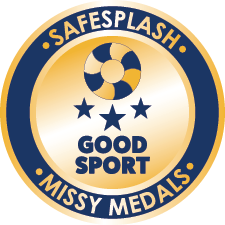 GOOD SPORT
Both winning and losing with grace and humility are character traits we greatly respect.
"The most inspirational people in my life are those who have displayed the strongest character. We may not all have the ability to be an Olympian, but everyone has the ability to have world-class character. Our 'Missy Medals' program is intended to recognize our students that demonstrate exceptional character."
Missy Franklin, Brand Partner, World Record Holder,
& Five-time Olympic Gold Medalist