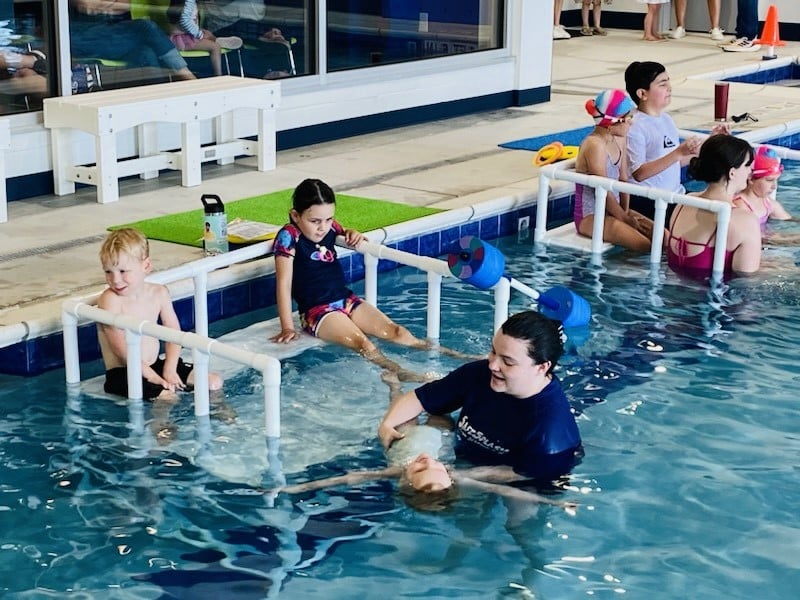 Water play, pool parties, and beach days are some of the many joys of summer. We all crave a refreshing dip when the weather is humid and warm, but water can also be a hazard for babies, toddlers, and young kids still learning to swim. Gentle, repetitive instructions and carefulness around water can be balanced with plenty of enjoyment.
It's never too early to teach your children water safety rules.
12 Water Safety Rules to Teach Your Kids
Foster safe and responsible behavior around water with these rules and tips for water safety:
Rules for Around a Swimming Pool
1. Never go to the pool without telling an adult
2. Don't run next to the pool
3. Wear safety equipment or flotation devices
4. Alert an adult immediately if you see a friend fall into the pool; don't try to save them yourself
5. Never jump on a friend in the water
6. Look where you dive
7. Never push a friend into the water
8. Don't reach for items in the pool (children who reach for balls or toys in the pool are more likely to fall in)
Beach Safety Rules
9. Find a lifeguard and stay between lifeguard flags
10. Don't turn your back on the waves; they may knock you over
11. Wave at and check in with an adult often
12. Don't go deeper than you're allowed to. Stay in the shallows!
General Water Safety Tips for Caregivers and Parents
Never leave your child unattended. Accidents can happen really quickly, and even walking away to take a call or tending to another child can distract you long enough for another kid to fall into the pool. Here are some general tips for water safety for the next time you're having a day by the pool:
Assign an adult to keep their eyes on little ones. This means no cellphone distractions, sober behavior, and staying alert.
Be prepared to dive in! Even if you're not a mermaid yourself, remove your shoes or wear your swimsuit so that you're ready to act fast if necessary.
Keep emergency numbers on your phone in case of accidents.
Refresh your CPR and

first aid knowledge about drowning.
Read up about

secondary drowning

and know the symptoms to look out for.
Remove toys from the pool.
Empty water tubs and buckets around the home.
Secure pools with fences AND a pool safety net.
Teach children about water currents in the ocean and give them a limit on how deep they can go (knee or thigh deep).
How to Nurture Water Confidence in Your Child
Make Swimming Lessons a Priority
Above and beyond repeating rules to your child, the best way to ensure safety around water is to send them for swimming lessons. From baby swim classes to school-going-aged children, swimmers learn skills crucial for learning to swim and to encourage safety in the water.
Practice, Practice, Practice
The more your child is exposed to water and can practice the skills of kicking, floating, finding the edge of the pool, holding their breath, and repeating swim strokes, the sooner you can be confident when they're invited to a pool party for kids, or during beach days on vacation.
Have Age-appropriate Conversations Around Water Safety
Reading books to young children about water safety, praising them for following the rules, and leading by example enforce safe and responsible conduct. Talk to them about the dangers and explain why safe behavior is important.
Be Patient, Alert, and Calm
We know you want to sunbathe with your book or float on your pool lilo while the kids play alongside you. Be patient, gently enforce water safety rules and remain vigilant. It will be worth it; one day, you'll be diving and splashing with your bold, water-safe babes.