Free Infant/Toddler Clinics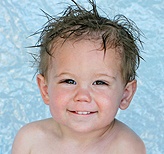 Swimtastic offers a free clinic designed specifically for families with infants and toddlers ages 6 months - 2 years old. The clinic provides general information about Swimtastic Swim School and acts as a free sample of our parent-child swim lessons. Free infant/toddler clinics are usually offered once per month.
If you have an interest in our Swim Baby or Swimtastic Swim Baby parent-child swim classes, this is the perfect way to try out the class prior to registration.
The infant/toddler clinic is 100% free, with absolutely no obligations whatsoever. Why not come try it out - no strings attached. See what our facility is like and experience our warm 90 degree water for yourself.

Hover over the location & schedule tab along the top and select your local Swimtastic to view the dates & times for upcoming infant/toddler clinics at your nearest Swimtastic facility.
To reserve your spot in one of our free infant clinics or for help finding upcoming dates/times, simply fill out our contact form or give us a call at (888) 549-SWIM (7946). Test one out today!