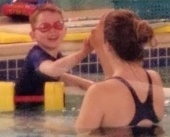 Our First Swimtastic Swim Lesson:
Easton and His Swimming Adventures

My son Easton is 4…"4 and will be 5 when Santa Clause comes" if you ask him. Easton LOVES to be in the bathtub but hates absolutely everything to do with getting water on or near anything above his neck. Washing this child's hair is a 10-minute negotiation and strategic discussion of how I plan to successfully avoid any moisture hitting his face, God forbid his eyes. So when we planned our first go at swimming lessons I had very low expectations. We signed up for the $35/8-week session at a local fitness facility and it was a disaster. He had minimal, (meaning none), pool experience, and the parents were required to get IN the water with the kids: not my idea of fun. (Turns out I don't like splashing either). There were 10 kids in our class along with at least 4 other classes going on around us. Add to that all of the parents and siblings waiting along the edge and facility members in the hot tub and you've got a noise level that made it nearly impossible to hear our instructor. The only thing Easton wanted to do was hang onto the edge and play with the dive toys.
Clearly, cheaping out on swimming lessons was an epic fail so I decided to try a new style of lessons and found Swimtastic.
Here's what got me…
The water is 90 degrees.
Mommy's (and daddy's and grandparents), can stay in the observation room overlooking the pool.
The classes are small. Really small.

On day 1 we got there 20 minutes early so I could let Easton see one of the classes going on before his…he was completely glued to the glass watching the other kids. Score for mom; this was looking good! We then changed in one of their private dressing rooms, (I had snagged him from daycare for this), had a little pep talk, wrestled with our new goggles that we HAD to have from their store area and we were ready to roll.
Our swim instructor Lisa came out and immediately started talking to Easton, asking his favorite colors, what he liked to do, basically making friends with him. He took to her immediately and off they went. Lisa got into the pool and Easton, (as I suspected), hit the brakes and took a seat on the pool steps…this is where he sat…for 10 minutes. My heart dropped.

I feared I would have that kid who could never swim or, more importantly, enjoy our cabin in the summer. But Lisa never gave up. She talked and laughed and eventually, to my surprise, got him to crawl into the water with her. I was ecstatic!
First, they just swam together as she pulled him around the pool. Eventually, they graduated to using a foam barbell for Easton to hold on to while he kicked his feet and, to my surprise again, she actually got him to get his mouth wet and blow bubbles…TWICE! That was truly a miracle in itself!
With every pass across the pool, I saw her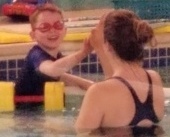 encourage him and conclude it with a high five, which he loves doing. She began incorporating arm movements and although he didn't really catch on to the "need to lift your arms out of the water to move" concept, she kept at it and so did he. His reward for all of his hard work: the slide! When they swam over to it I gasped thinking there was no way he would go down it, in this instance I was right. But he did sit on the edge and threw himself into the water with her which was more than I thought would happen. The grin on his face told me that he was feeling pretty darn proud and that made mommy proud. When they came out of the pool and I met them by the locker rooms for Lisa's breakdown of events Easton was so excited and grinning ear to ear that he couldn't even get a word out.
This first session was so exciting and encouraging that I can't wait to see what progress he makes at his next visit!
Interested in visiting a Swimtastic Location yourself? Explore a Swimtastic Facility from the comfort of your keyboard! Click the Link below to Take a Virtual Tour!