SWIMTASTIC FRANCHISE OPPORTUNITIES
Discovery Process
We are dedicated to finding the right franchisees for our system. Our detailed discovery process will lead us to that end, while ensuring that we get to know each other well and all of your questions are answered along the way.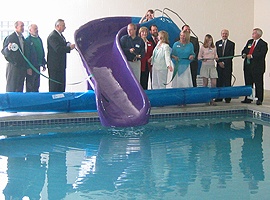 What Steps Should You Expect Throughout Swimtastic's Discovery Process?
1.
The process kicks-off by completing our interested candidate form, opening the door to further information behind opening a Swimtastic franchise of your own.

2.





We contact you via telephone and inquire about your background, business goals and personal financial situation. We also have an in-depth discussion of our discovery process.

3.





Next up, you are provided with a password and directed to the secure franchise section on our web site containing further information.

4.

You are then encouraged to complete the request for consideration form form and return it to us for our review. This does not obligate you in any fashion, it simply formally begins our mutual discovery process allowing us both to make an informed business decision.

5.

Swimtastic Executives review the request for consideration form.

6.

When this review is completed we will contact you to discuss this information. If together, we discover our business goals our mutual, you will be invited to our Discovery Day Program held at our corporate headquarters in Waukesha, Wisconsin.

7.

Throughout Discovery Day, you'll have the opportunity to tour and observe a Swimtastic Swim School, as well as meet with key corporate personnel. Our uniform franchise offering circular is reviewed and business plan templates along with site evaluation forms are covered. Local market demographics specific to your preferred market(s) will be assessed; client profile analysis and territories available within the market are all taken under consideration. Location criteria and pre-opening check list are reviewed and discussed as well. You will not be expected to sign or commit to anything at this meeting so leave your check book at home. This meeting is designed to allow us both to gain better insight into each other's collective goals allowing us both to make a well-educated decision.

8.

After Discovery Day, you will be encouraged to contact existing franchisees and complete the business plan template.

9.

We will address any remaining questions that have surfaced throughout your discovery process.

10.

If both Swimtastic as well as yourself feel the opportunity addresses our collective business goals, you will be awarded a Franchise Agreement.
After you've had an opportunity to review the franchise information available on our public site, your next step is to complete the interested candidate form to recieve access to more detailed information about our franchise opportunities.
In order to be considered as a potential Swimtastic Franchise Owner, the next step is to complete the request for consideration form. We'll be in touch with you shortly afterwards to answer any questions and to further explain the Swimtastic franchisee selection process.
Click below to get started...
Disclaimer: This website and the franchise sales information on this site do not constitute an offer to sell a franchise. The offer of a franchise can only be made through the delivery of a franchise disclosure document. Certain states require that we register the franchise disclosure document in those states. The communications on this website are not directed by us to the residents of any of those states. Moreover, we will not offer or sell franchises in those states until we have registered the franchise (or obtained an applicable exemption from registration) and delivered the franchise disclosure document to the prospective franchisee in compliance with applicable law.