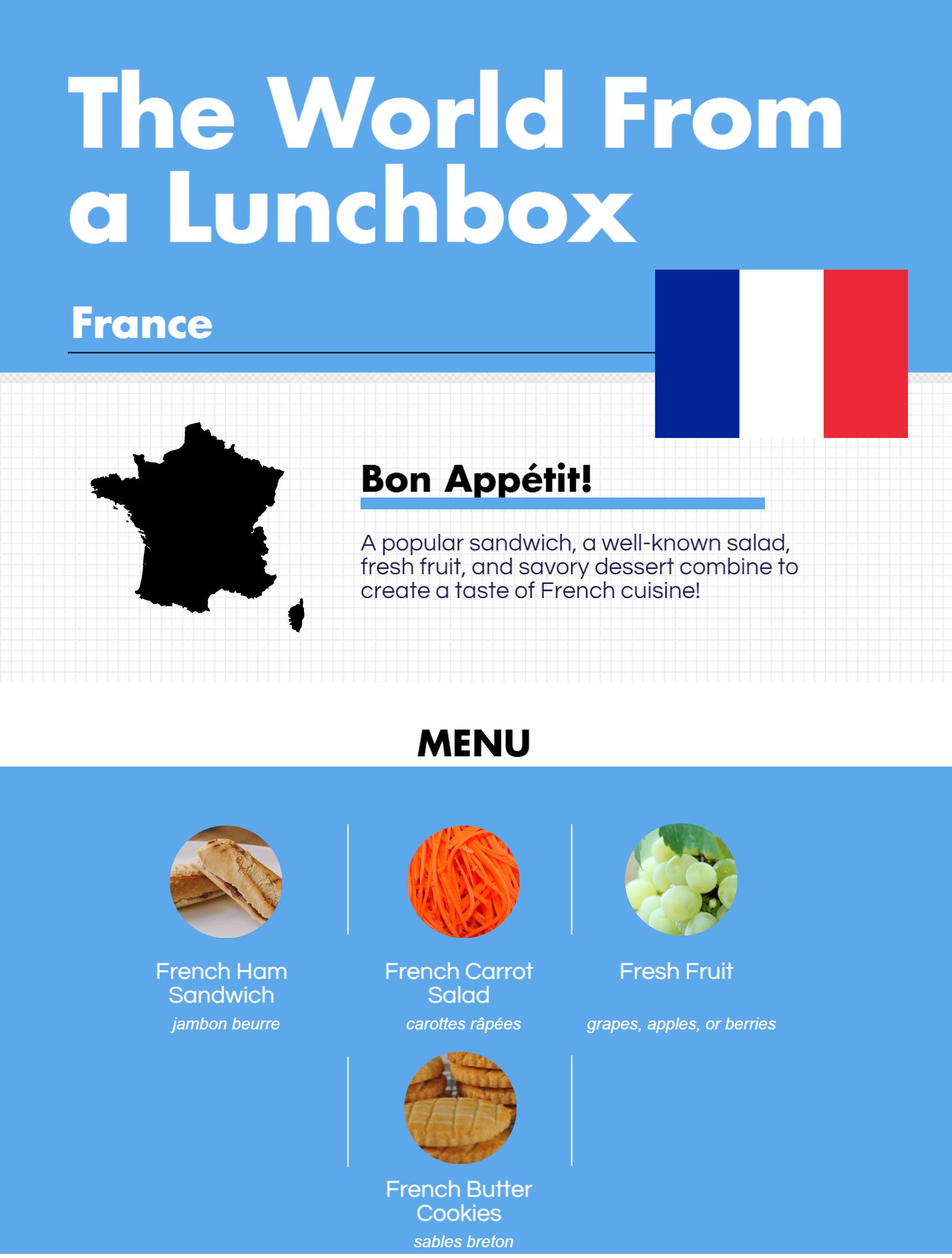 The World From a Lunchbox #1: France
Welcome to the first post in an monthly blog series for Swimtastic called "The World From a Lunchbox", in which we show you how to introduce your children to places all around the world through their lunchbox.
Introducing your children to the vast cultures of the world often sounds like a daunting task to most. Where do you even start? How do you start?
Unless you have piles of cash lying around and plentiful vacation time, you can't exactly take your family on a trip around the world exploring. Chances are your little one isn't yet going to be interested in a documentary about a different country. And books only go so far, especially if your child is a kinesthetic learner.
That's where food comes in. Food is such an important gateway into a culture. Staple ingredients, prep, and how food is enjoyed in different places around the world can tell you a lot about what the people value and what is important to them, and can many times have historical significance.
If you give a child a history book on a country, they might turn their nose up, uninterested at their young age. But if you give your child, for example, a delicious Vietnamese spring roll, chances are you're going to get a much more positive reaction. If a child takes to a dish, they may become curious in learning more about it's origins, and may want to try more food from the country's cuisine. Using food as a stepping stone towards other places in the world can be a very effective tool, sparking interest in a way that few other things can.
Even if a child isn't immediately interested in learning more about a culture, you can rest easy knowing that you have have presented them with a learning opportunity, and that you have planted a seed that may grow into a more expansive interest later on in life.
By including new dishes in your child's lunchbox, you are creating a new path of knowledge for your child to embark on.
You can expect the following in each monthly "The World From a Lunchbox" post:
A complete lunchbox-ready menu from a country other than the US, each menu crafted with a child's palate in mind and with ingredient accessibility in mind (substitutions and alternate suggestions will be made when needed). Rather than emulating what an exact lunch would be like in a different country, the lunch menus are instead focused on providing a taste of some famous flavors from the featured country. Recipe links will be provided.

Printable PDF grocery shopping list

Printable PDF sheet of lunchbox notes, containing fun facts about the featured country for you to cut out and put in your child's lunchbox!
Let's get started by visiting our first country - France!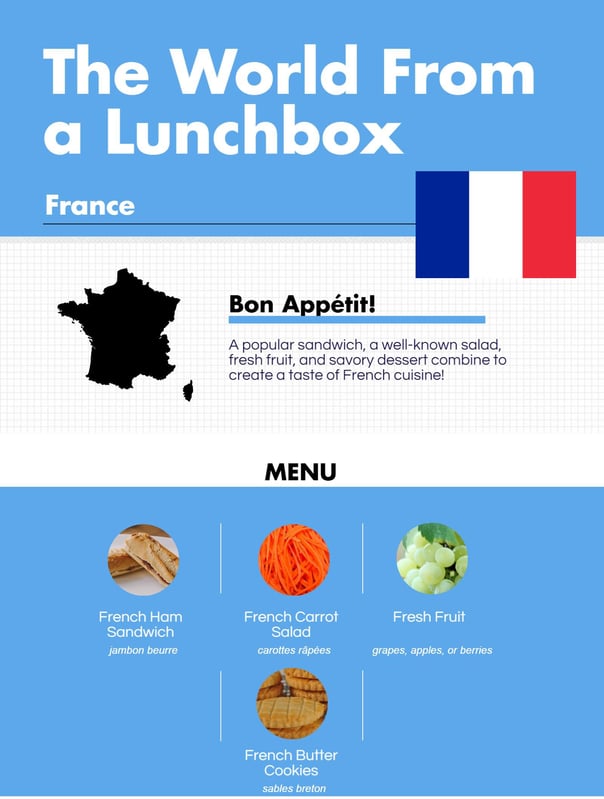 --
French Ham Sandwich (Jambon Beurre)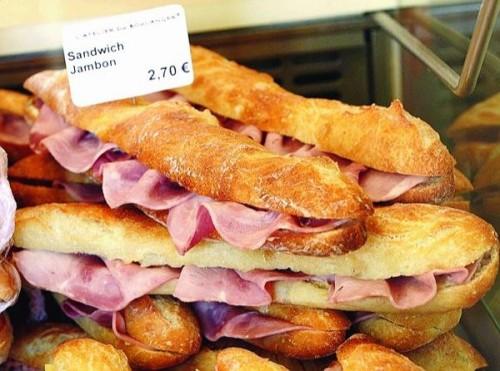 The French ham sandwich consists of three simple ingredients: a fresh baguette, Jambon de Paris (a type of thinly sliced ham cooked using a special recipe, only made in Paris), and European butter. The sandwich is savory and rich, and transcends it's seemingly ordinary presence by consisting of high quality ingredients.
However, since most of you reading this are probably not living in France, we will have to take some liberties with the ingredients. The idea will stay the same; we will just be swapping out some ingredients that are more readily available at your supermarket.
Baguettes should be easy enough to find at your local supermarket or bakery. Jambon de Paris? Not so much. However, any type of thinly sliced deli ham will do the trick.
As for European butter, this is what lends the sandwich it's decadent, irresistible taste. European butter has a much richer taste than American butter; it has higher butterfat content which makes it softer and perfect for spreading on bread and sandwiches. Many grocery stores are now carrying a much more expansive stock of butters. You just might be able to find European butter at your grocery store. Land O' Lakes even makes a version now, but if not, try finding a high quality whipped butter to use.
Feel free to dress the sandwich up by adding cheese, greens or even dijon mustard!
RECIPE: http://www.oliviascuisine.com/french-ham-sandwich-jambon-beurre/
--
French Carrot Salad (Carottes Râpées)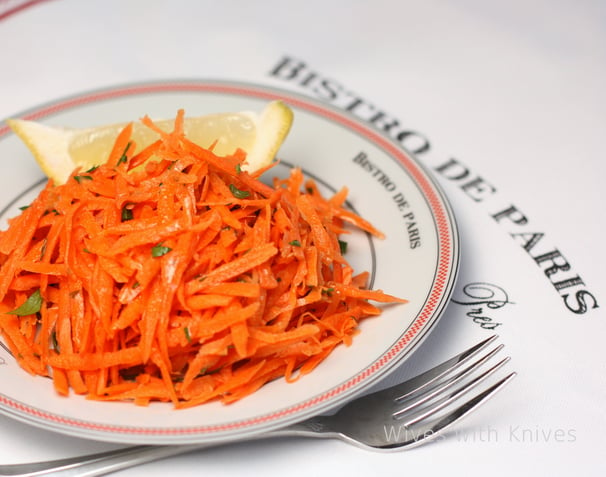 This immensely popular side dish is found all over Paris. It's something that you would find in the pre-packaged salad selection at the deli, and it's also something served in cafes! It's versatile and can be spruced up by adding some greens, nuts, dried fruit, or lemon if desired.
The recipe provided calls for scallions/shallots, but if your little one doesn't care for onions, feel free to omit them. You won't lose any flavor thanks to the tangy dressing.
RECIPE: http://www.onceuponachef.com/2009/07/french-grated-carrot-salad.html
--
Fresh Fruit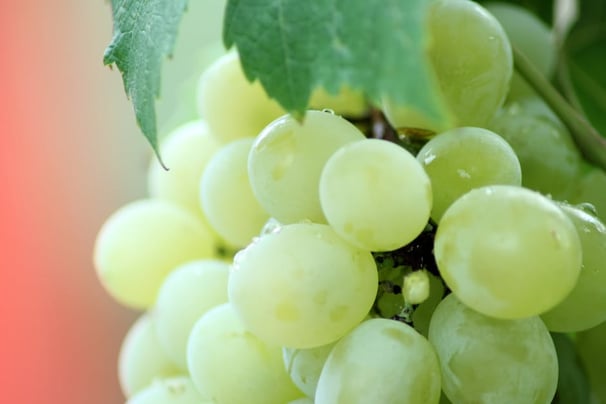 Any type of fresh fruit will pair nicely with this lunch, but some good suggestions include apples or grapes for crunchiness, or any type of berry (especially blueberries)!
--
French Butter Cookies (Sables Breton)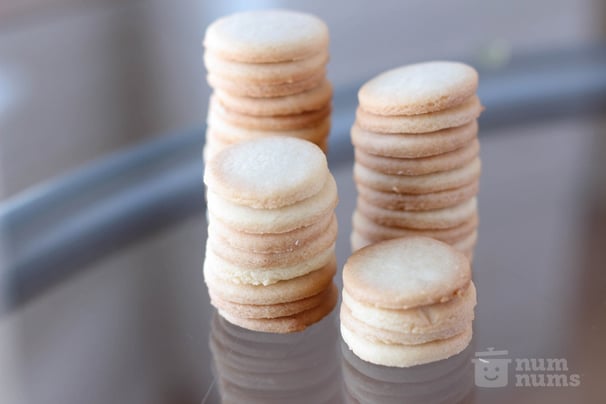 While macarons and madeleines might be some more famous dessert offerings from France, macarons are notoriously difficult to make on the first try, and madeleines require a special pan to bake in. French butter cookies (sables breton) are a more accessible alternative than the previously listed cookies, and will not disappoint with their wonderful rich flavor. Recipes vary, and more traditional ones call for harder to find ingredients and extra steps, but the recipe provided will produce a tasty and simple version of these cookies.
RECIPE: http://numnums.com/recipes/396/poilane-s-french-butter-cookies
--
You've got the menu - now it's time to go shopping! Download our convenient and organized printable PDF grocery list to make your shopping trip stress free:
Be sure to add in one of our printable lunchbox notes to add to your child's already awesome lunch! (included are a couple copies of each note depending on how many lunches you are making!)
We hope you enjoyed the first installment from The World From a Lunchbox, and we can't wait to see you again next month when we'll be virtually traveling to... South Korea!
Remember to subscribe to Email Updates so you never miss a post. See you next month! :) v