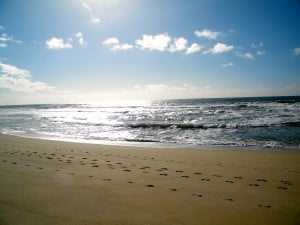 Summer is often the time when families venture into the great outdoors for day trips or longer camping excursions. General water safety rules apply around natural bodies of water like lakes, rivers and oceans, but there are also specific rules that should be followed to ensure that your time in nature is without mishap.
When enjoying time near any natural body of water, always observe general water safety rules, such as:
Make sure everyone in the water knows how to swim.

Keep babies and toddlers within arm's reach at all times (even when they're not in the water).
Swim sober.
Create a water watcher schedule so a sober adult who knows how to swim is watching swimmers at all times.
Always have U.S. Coast Guard-approved life jackets with you, even if everyone in your party knows how to swim.
Below are guidelines for individual bodies of water, starting with the biggest and, therefore, most worthy of respect when it comes to swimming.
Ocean Safety
Keep in mind:
Even if a shoreline is publicly accessible, it's not necessarily swimmable.

Be aware of any posted notices about water conditions and known swimming hazards.
Lifeguard service can be limited, even on public beaches.
Water temperature varies; very cold water is present in even the warmest climates and can quickly cause hypothermia.
Surfs are unpredictable - what looks like a mild wave at the surface can be very powerful under the water.
Sudden drop-offs are common in oceans.
Avoid pounding shorebreaks - heavy waves breaking directly on the shore or in shallow water.
Rip Currents
Rip currents (sometimes called riptides) present the greatest danger in oceans. According to the National Oceanic Atmospheric Administration, 80 percent of ocean rescues by lifeguards are due to rip currents. These currents are very powerful and flow away from the shore. Swimmers can find themselves caught in a rip current very suddenly.
If you see a swimmer in distress, signal a lifeguard or call 9-1-1. Do not attempt to rescue a swimmer caught in a rip current. Try to stay calm and direct the swimmer to swim perpendicular to/along the shoreline. If you find yourself in a rip current, try to stay calm and literally go with the flow - that is, tread water and let the current take you away from the shore. When you feel that you can swim out of the current, follow the shoreline until you are out. Then swim toward the shore, signaling and/or calling for help if necessary.
Lake and River Safety
All general water safety rules and many ocean water safety rules apply when swimming in lakes and rivers. Additional rules include:
Most public access sites on lakes and rivers do not have lifeguards.

Don't dive in unfamiliar water - always investigate depth (minimum of nine feet for diving) to avoid sand bars, debris and vegetation that could entangle arms and legs.
Be aware of water conditions that could include the presence of contaminants, infectious microbes or parasites like leeches.
Do not swim near dams.
Be aware that river currents are unpredictable - a swift current can be just steps away from a calm area.
Be aware of other recreational activity occurring in the same area, including fishing and boating.
Swimming in natural bodies of water can be relaxing and part of a special outing. But, as the Red Cross says, "No one is drownproof." It's often the most experienced swimmers who underestimate nature, especially if they typically swim in pools. Spend time going over these safety guidelines with everyone in your party to make sure that every summer memory is a happy one.