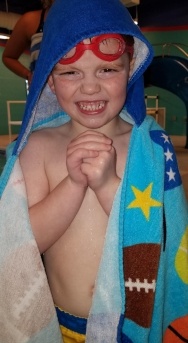 Easton's Swimming Adventures: Week #3
Week 3 started with so much excitement on the car ride over that I felt like I needed to run every red light just to get Easton there before it faded. Of course, his excitement was in part due to his assumption, (an incorrect one), that he was going to get another water gun from the Swimtastic "store" like he did after his first lesson. I did have to dash his hopes on that but did offer up a package of cookies from their snack area as a consolation prize. Surprisingly, he was cool with it.
As I settled into my regular spot in the observation room, Easton hurried to the water. Once he finally got his goggles adjusted, he lunged towards Lisa and they were off. This time he wasn't stiff and scared, she didn't need to coax him or discuss Ninja Turtles for 10 minutes to ease him into things, instead, he attacked the crawl, (his version of it anyway), with a ferocity that made me laugh out loud! Arms were flying, legs were kicking, he was into it! On their way back across the pool, after some instructions to refine his moves and some great belly support from Lisa, the unthinkable happened. His face went IN the water. I repeat, face IN the water! And it came out smiling! I almost didn't believe it even though it was happening right in front of me. I was so shocked that I almost jumped out of my chair and I'm certain I made some sort of noise that startled one of the babies in the viewing area. Even in the bathtub, (until now), Easton would do everything to avoid getting water in his eyes but not today! We. Were. Swimming.
If you are interested in having your own Swimtastic adventure click the button below and register for classes today!