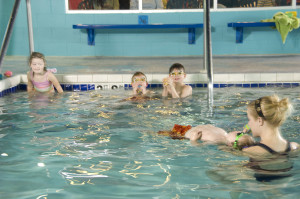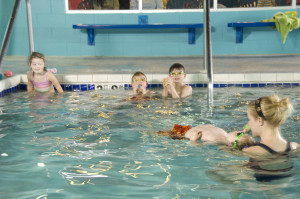 This week's blog is contributed by Lauren, a professional swim instructor at our Lincoln, Nebraska Swimtastic Swim School.
A challenge we consistently face in swim lessons is helping children and adults alike overcome fear of the water. We are excited to have a blog contributor from our Lincoln, Nebraska school this week share her teaching success story, describing how she helped a young student forget her fears and take the plunge! Read on to enjoy Lauren's examples on how Swimtastic Swim Lessons can help students of any age overcome their fears and enjoy swim lessons.
---
She sat frigid on the stairs, ice cold eyes, clenched arms bracing herself against the metal stair rail.
"I can't!!" She exclaimed.
"Oh yes you can," I returned with a smile and my arms stretched out about a foot away from the stairs she sat on. She had swam to me before, a little reluctantly, but the task was accomplished. She needed to know she could get to me by herself, through the water, without my help.
We trenched through the power struggle for a couple minutes more. I asked how her play date with grandma was last week. She proceeded to tell me lavish stories about playing dolls and going to the zoo. She didn't notice my hands gently coaxing her off the stairs towards me... Until my gaze went from her eyes to my arms in the water.
"But there's an octopus in there!!" She screamed. I could almost hear the oncoming tears in her voice.
"What?! Where?" I threw my hands in the air and spun around as fast as I could, accidentally splashing the instructor next to me. My student was confusingly silent for a few seconds...
"Over there!" After I smirked at her, then gave her my best terrified look, she gave me a smile as she stood up and shouted. She pointed behind me.
I quickly splashed the invisible octopus and swam over to the stairs and sat next to her. I was panting as if I'd swam for miles.
"Are we safe?" I asked.
"No! He's coming!" She could hardly get out her words, she was giggling so hard.
"Quick! We need to swim away!!" I leapt off the stairs and waited for her to get the hint. She cautiously stepped down one stair and jumped out, went under water for just a brief second as she drifted towards me. I swooped her up by her waist and started running away from the octopus.
Did we make a scene? Yes.
Did we accomplish our task of the little girl swimming to me? Yes.
Was it a blast? Absolutely.
If I've learned one thing from teaching swimming lessons since I was 14, it's to make it fun. Swimming can be a legitimate fear for some. The more fun students have, the less they will focus on their fears. Go with it. A four year old says there's an octopus in the pool? There is. A twenty seven year old swimming student is nervous to take swim lessons because of her age, tell her your story of how you began. Or how embarrassed you were the other day to sprint across the employee room to get your bag because you forgot your undergarments when you were changing... They forgot they were afraid for just a few minutes. A two year old is obsessed with Lightening McQueen? Race your race cars to the dock on the other side of the pool. You're not there just to get through another lesson. You're teaching a life skill. Make it part of life; fun, exciting, and watch those fears disappear.