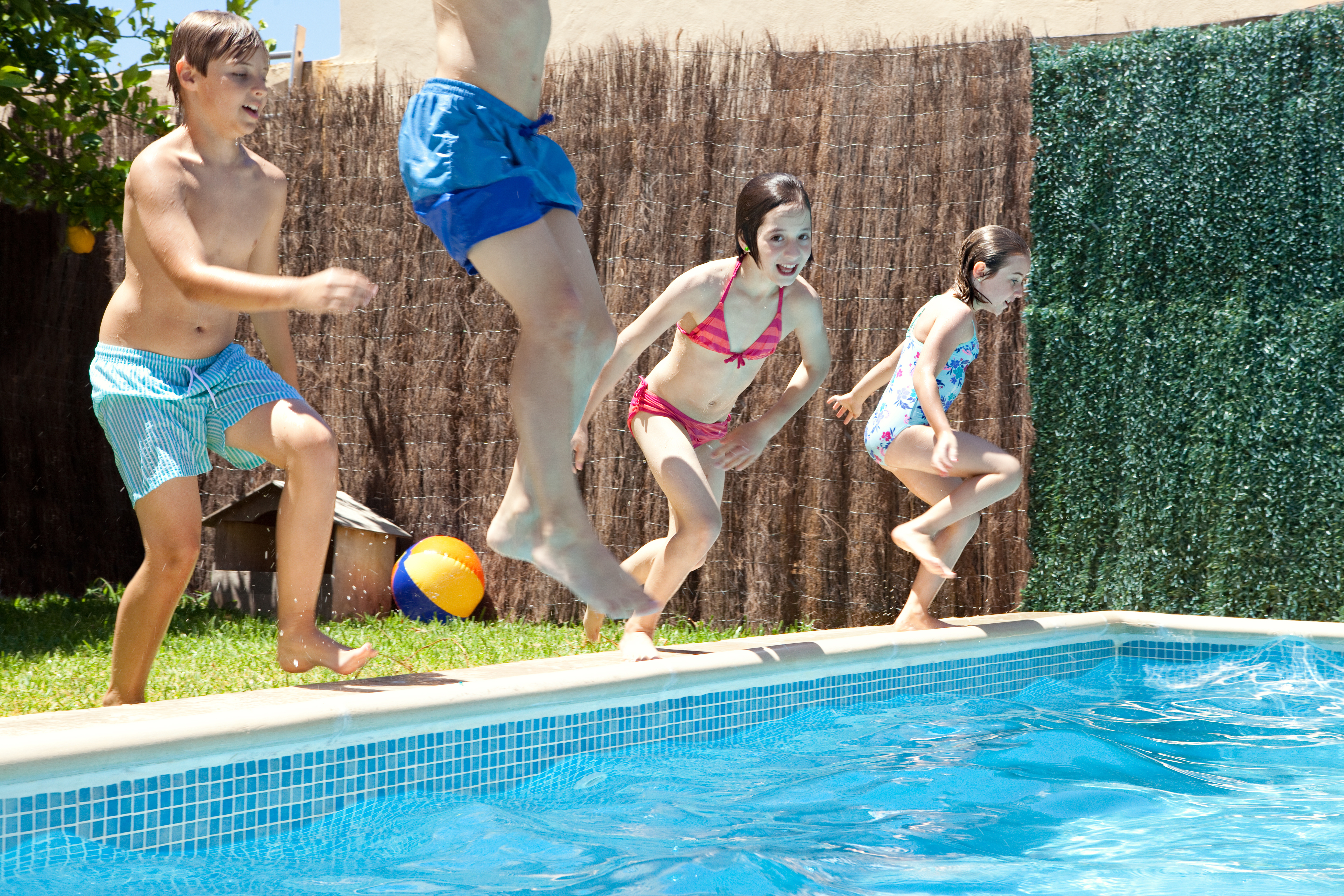 For parents of young children who are still a few years away from reading a book and sipping a refreshing beverage poolside while the kids entertain themselves, swimming is still a hands-on, undivided attention event. While the novelty of splashing in water will occupy most kids for a bit, it's always good to have a few fun pool games in your back pocket for when you just can't "watch me do this" one more time.
As a bonus, swimming pool games are a great way to get your kid more comfortable in the water and reinforce the swimming and water safety skills they're learning in swim lessons. And if your kids aren't in swim classes yet, games that make being in the pool fun can help spark that interest. After all, the quicker your kids become confident swimmers, the closer you are to that lounge chair phase of parenthood. In the meantime, here are five swimming pool games that will make pool-time more fun for everyone.
Seal Races
For this game, you'll need an inflatable beach ball for each kid (really, any object that floats—rubber duckies, bath toys, pool noodles-- will do). Each child will race to get their object across the pool. They can push with their noses, foreheads, bellies…anything but their hands. Make sure you pair similarly skilled swimmers together, little ones will get frustrated if they can't compete. This silly swim competition is great for everyone from strong swimmers to kids in floaties.
Whirl-pool
This is a great non-competitive game where everyone works together to create a whirlpool effect in the water. Have all the players get in the pool (ideally in a part of the pool where everyone can stand) lined up against one wall. Then tell all the kids to walk in a big circle (they will walk in a line, one following the other). After 30-45 seconds, they will start jogging, and then running. After a minute or so of cooperative motion, they will have created a whirlpool! Have everyone lift their feet up to see how long the current will carry them along.
Basketball Fun
You don't have to turn into a full-on camp counselor for every swimming pool game; sometimes you just need to have the right equipment. A basketball hoop for the pool will provide endless opportunities for fun. Kids can shoot around, play a game of H-O-R-S-E, play 2 on 2, or even have a 'jumping into the pool shot' contest. A pool hoop is perfect for those times when you just have one or two kids to occupy.
Number Races
This game can be scaled up or down depending on the number of players. Get a bunch of ping pong balls and write numbers on them with a permanent marker. Toss all the balls in the middle of the pool. Divide the kids into two teams and have them line up against the wall on opposite sides of the pool. Call out a random number and have one person from each team swim to the middle of the pool to try to find the number first.
Once all the numbers are called, the teams add up their balls and the highest total wins. This game is great because it can also be fun for one (and is a perfect way to work on swim technique).
Synchronized Swimming Routines
When you're ready for a non-competitive swimming pool game, have the kids choreograph, practice, and perform their own synchronized swimming routine. If the kids have a hard time making decisions as a group, let each child choose one move at a time to add to the routine (swim, jazz hands, twirl, front flip, etc.).
Perk Up the Pool with Fun Pool Games
This summer, you can be the life of the swimming pool party with one of these simple swimming pool games. Playing fun pool games like seal races, whirl-pool, basketball, number races, and synchronized swimming will not only liven up pool time for the kids, but it will help them gain confidence in the water.