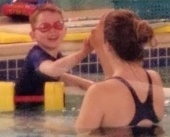 Our First Swimtastic Swim Lesson:
Easton and His Swimming Adventures
My son Easton is 4…"4 and will be 5 when Santa Clause comes" if you ask him. Easton LOVES to be in the bathtub but hates absolutely everything to do with getting water on or near anything above his neck. Washing this child's hair is a 10-minute negotiation and strategic discussion of how I plan to successfully avoid any moisture hitting his face, God forbid his eyes. So when we planned our first go at swimming lessons I had very low expectations. We signed up for the $35/8-week session at a local fitness facility and it was a disaster. He had minimal, (meaning none), pool experience, and the parents were required to get IN the water with the kids: not my idea of fun. (Turns out I don't like splashing either). There were 10 kids in our class along with at least 4 other classes going on around us. Add to that all of the parents and siblings waiting along the edge and facility members in the hot tub and you've got a noise level that made it nearly impossible to hear our instructor. The only thing Easton wanted to do was hang onto the edge and play with the dive toys.
Clearly, cheaping out on swimming lessons was an epic fail so I decided to try a new style of lessons and found Swimtastic.