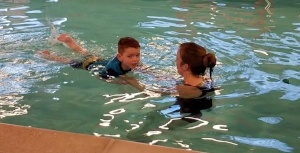 Easton's Swimming Adventures: Week #5
Look mom, no goggles!! That was the highlight of our latest swimming adventure with Miss Lisa. Before we started lessons I thought that giving my child goggles would get him excited about the whole process, but in hindsight, I believe I have imposed a slight crutch for him to use. Because his swim class is small, REALLY small, only-2-other-kids kind of small, there isn't even a need for them because of the splashing and rough water…the reason during our previous lessons…is pretty non-existent. Because he's not fighting the water, he's more likely to actually put his whole face in…
which by the way we are also doing now! The top of the head is still a work in progress.