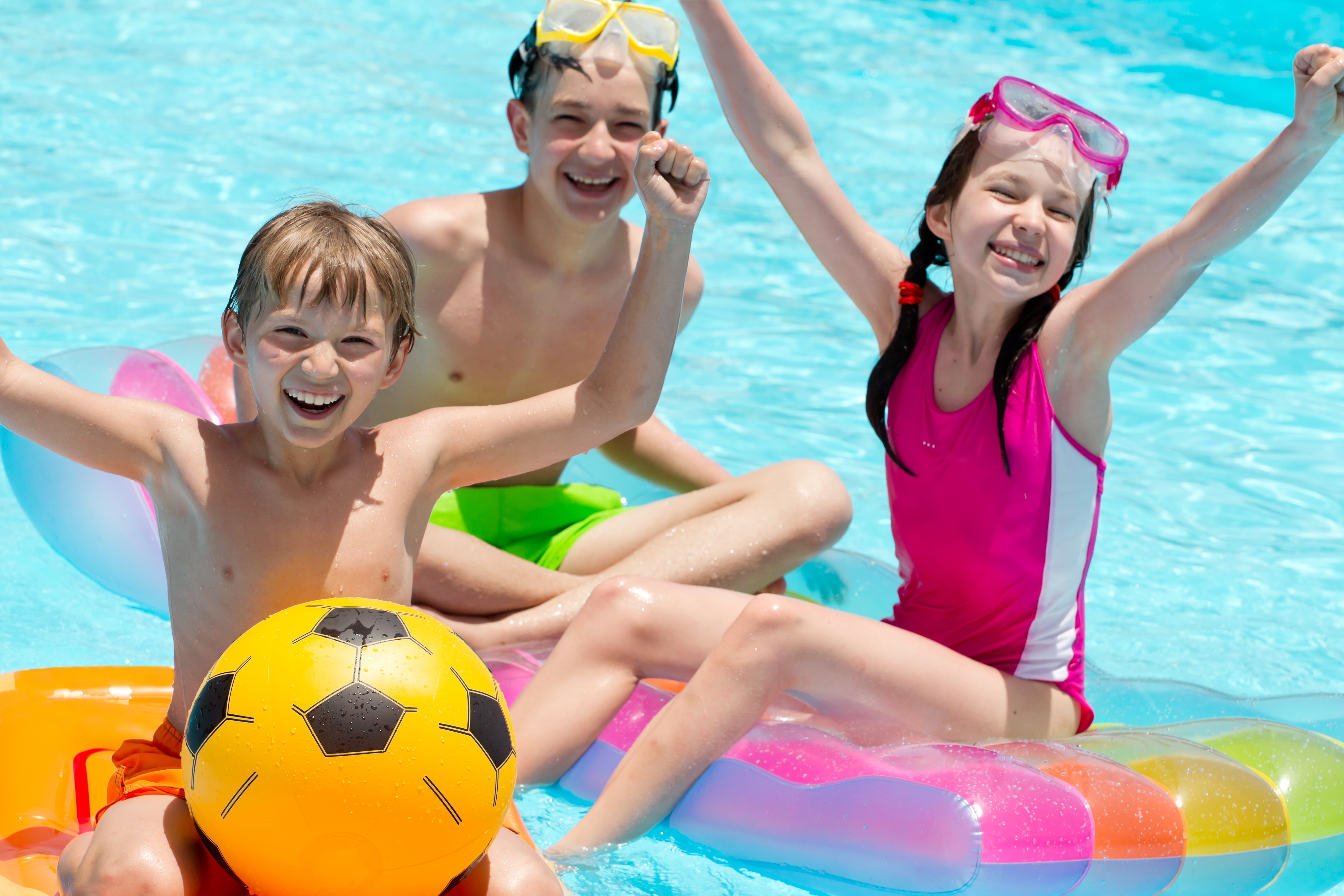 Although some children love getting involved in sports and activities and bouncing around from practice to practice, others need more convincing to stay active. The digital age has taken over, whether we like it or not, and it may be playing a role in how active kids want to be. But younger kids may not understand the importance of exercise, so forcing them into a workout will probably result in more tears than activity. Exercise games can bring an exciting element to being active, keeping your child engaged, and having fun while staying healthy.
6 Engaging Exercise Games
for Kids
Kiddos need exercise just like adults need exercise. The Centers for Disease Control and Prevention (CDC) recommends at least one hour of exercise daily for children age 6-17. Most children would probably be more inclined to stick to that goal if they're having fun while being active. Try these exercise games to get them moving willingly.
Swimming Pool Sports
Water exercise is some of the best you can get because it works the whole body. Sports also require consistent movement, making use of muscles, and keeping the heart healthy. Put them together, and you have the ultimate exercise!
Try playing some of your child's favorite sports in the pool. Basketball, baseball, and volleyball are perfect for a family-friendly swim competition or a birthday pool party. You can also have a swimming race together to see who can get to the other side of the pool the fastest! Tip: Consider getting non-swimmers professional swimming lessons before trying these activities. Swimming lessons for kids and adults can teach the basics and different swim strokes to keep your time in the pool safe and fun.
Wall Ball Competition
Wall Ball is a game with several variations, but this is one that your child will probably love trying with you and a sibling, regardless of their age. To play, find a wall, like an exterior wall of your home, or a fence, and a bouncy ball, like a dodgeball or basketball. One person starts by throwing the ball against the wall. Then, allow the ball to bounce one time before the other person catches it. The second person can then throw the ball at the wall to send it back to the first player. If you fail to catch the ball or it bounces more than once before you catch it, the other person gains a point. Keep playing until someone reaches 10 points.
Obstacle Course
Gather the family to help make an obstacle course in the backyard or living room. A few ideas to get started:
Line up a few chairs and drape a blanket or sheet over them to make a tunnel to climb under.

Place hula hoops on the ground to hop through.

Set a few short stumps in a zig-zag pattern to balance on as you walk across.
Skip Rope Games
Jumping rope is one of the best cardio exercises, but it's also incredibly fun! Challenge each other to see who can get the most jumps or make up some jump-rope rhymes for Double Dutch jump rope.
Resitance Bands Games
Sports teams often play games with resistance bands for exercise and team bonding, and you can do the same at home. Try this simple one the kids will love: Wrap a long resistance band around two people at their hips. Draw a line in the ground with a stick to mark the middle spot. When you say, "Go!" both players will move in the opposite direction and begin pulling each other. Who can drive the other backward over the middle line first?
Nighttime Dance Party
Adorn yourselves in glow sticks and turn up the music on a Friday night for an in-home, nighttime dance party. Let the kids pick a few of their favorite songs to jam to.
Forget Boring Workouts; Try Exercise Games
Instead
Exercise definitely doesn't need to (and shouldn't) be boring, which is why exercise games are the perfect solution to getting kids to be more active. Try a few of the ideas above or see if your kids have any suggestions for a few active games to play together every week.